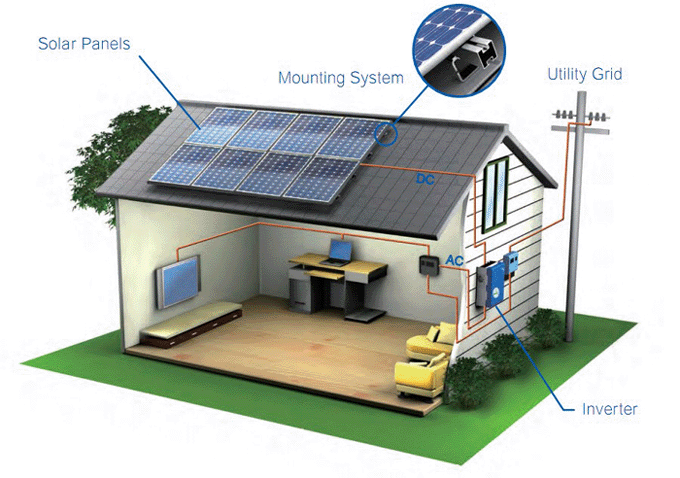 Today, a consumer looking into the future, strive to invest in it. And there is no better way to simplify and make your life more comfortable than to make the most of what nature gives us. That is why investments in solar stations are becoming more popular and demand today. The decision to install a network solar station - allows not only to provide a backup and reliable power source, but to save as much as possible on the consumption of total electricity, using the free energy of the sun.
Also one of the seductive advantages of this solution is the opportunity to fully recoup all the investment for years of operation and earn on the sale of surplus energy in the state system "green tariff". We buy a solar station from our company. Our range includes models of leading international corporations that have established themselves as manufacturers of high-performance and high-quality products. So in the catalog you will find solar stations for 30 kW, as well as for more powerful or weak installations for commercial and personal use.
SolarLake Inverters
Before you, the product line of inverters from the largest international holding company SolarLake. The company has many years of experience, modern factories producing inverters, a staff of highly qualified specialists and new energy technologies. Such resources were made by SolarLake network systems - favorites in the international energy market.
The ruler of the presented inverters assumes various configurations of modules. Advanced technologies awarded the series with compliance with all standards of reactive energy supply, network support and control over interaction with energy systems. Features and advantages of this type are the following qualities:
• Wide range of efficiency up to 98%;
• function of tracking and control through the network;
• high build quality;
• strong, stable materials;
• modern design style;
• the presence of a stainless steel frame of high-quality steel;
• multiple protection;
• Long operational period;
• Manufacturer's warranty up to 5 years.
The estimated cost of additional materials for the installation of the system is 10-20% of the cost of the equipment.
The cost of installation of the system is 10-15%, depending on the complexity of the object.
Network solar power plants are a guaranteed way of generating revenue, highly efficient energy production, quiet operation, unpretentious servicing, the ability to mount on any kind of roof, independence from economic and other external factors. We offer only the best ready solutions, as well as reasonable prices, and a turnkey package of services.
At us you will find only the certificated production of world manufacturers. Each solution presented has undergone a detailed technical check and demonstrated maximum efficiency.
We provide the most reasonable prices, a full set of services, as well as the support of highly qualified specialists.
Order a network solar system "turnkey" you can by clicking on the link or by phone: 044-585-64-94, 067-409-72-19, 095-311-90-87
Information about the company
Samil Power Co., Ltd - is an international company that originated from the Samil Group in 2008. Samil Power Co., Ltd. is one of the fastest growing solar inverter companies around the world and specializes in R & D, production / sales / marketing / service. There are currently more than 700 employees working for Samil Power Co., Ltd. world. The company covers the entire portfolio of products - from micro string converter inverters to the MW station, which helps customers maximize profitability and reduce the investment payback period of their photovoltaic systems - from small residential to commercial commercial land. To date, over 200,000 inverter lines from Samil Power have been installed in more than 20 countries (eg Australia, the UK, Germany, Italy, Belgium, Spain, Holland, France, China, etc.) with currently 9 own branches in Munich, Milan, Reading, Lyon, Sydney, San Francisco, Beijing, Shenzhen and Suqian. The company has more than 200 engineers. The inverter is certified according to international standards (ISO 9001: 2008 ISO 14000 und: 2004), as well as two R & D centers.
Think globally - act locally the motto of the company. Think globally in terms of research and development, production and management in order to have costs under control - act locally on sales and marketing, product management and services to provide exceptional service to customers all over the world.
Founder Peter Cui, is a Chinese Australian who has instilled many of the world's best practices within the company. He can look back at the rich management experience with international electronics companies.
KEY FACTS - Why Samil Power is the right partner FOR YOU
 International company specializing in R & D, production, sales / marketing and service
 Headquarters for sales / marketing, product and service management in Munich
 Professional, western market management by experienced PV specialists
 Close the customer for local sales, the repair and maintenance center
 Economical and certified "state-of-art" production facility
 Full range of products for residential, commercial and utility applications
 More than 1 GW of installed inverter capacity worldwide
 Professional, global service configuration with appropriate support centers for technical requests
 Local warehouses ensure short delivery times
Central Office - Huigu Innovation Park, Huishan District, Wuxi, Jiangsu Province, PRC 214174